OUR RECTOR – FR ANDREW EATON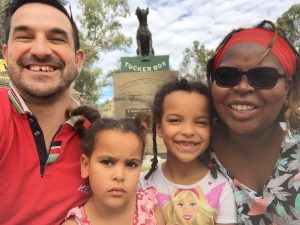 I came to Wallsend with my wife Monica and two girls in February 2017 having ministered in the Diocese of Bendigo in rural Victoria for 6 years.
I completed a Masters in Divinity and Advanced Diploma in Ministry at the University of Divinity in Melbourne, after previously studying a Bachelor of Arts and a Diploma in Golf. I have an interest in Girardian theory and non-violence, ecumenism, liturgy, and I am an aspirant to a new Anglican Marian order – the  Sodality of Mary Mother of Priests.
I love digging deeper into the scriptures and exploring how following Jesus transforms our lives so that we can be part of the transformation of the world.
OUR CHILDREN'S & FAMILIES MINISTER – MR MATTHEW COUCH
Moving to Newcastle with my wife Miranda and son Joshua opened up space in our lives to focus more intently on prayer. I soon found myself drawn to the spiritual, aesthetic, and liturgical traditions of the Anglican church.
At St Luke's, we found a sacramental life accompanied by a vibrant host of families and children! This pleasant discovery led us to make St Luke's our home.
I am grateful to work alongside our loving volunteers as we minister to the children and families in and around Wallsend. I bring to my role a deep love of theology, science, and Christ.
OUR ORDINAND – MR PHILIP MORRIS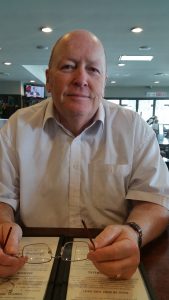 I was born and raised in New Lambton, the third child of Thomas and Lorna Morris. I married Sandra in 1978 and we have two sons and four grandchildren. I worked at BHP, MMI and GIO before leaving full time employment to undertake my training as an Ordinand.
My faith journey:
I felt the calling of God in my late teens and like many, tried to ignore it and live my life as I saw fit. But God kept calling me and in my mid-twenties I started to assist around St Luke's in various small ways outside the Sanctuary. I was a welcomer and reader at the Family Service that my family attended. God kept calling me to do more. I then joined the Sanctuary Team and assisted in all the duties of a server, from acolyte to thurifer, liturgical assistant to lay reader. My parish and successive priests saw me in a more senior role and asked if I was prepared to be "put forward" to the Bishop as a candidate for ordination.
I was asked by the Bishop to undertake a 'Year of Discernment' in order for my calling to be further discerned by both myself and the Church. At the completion of this Year of Discernment I felt that God was still calling me to the ministry and the Bishop agreed. I was then asked to join the Ordinands Group for the next two years where I would receive instruction and training for my preparation to be ordained, firstly as a deacon and then a priest in the Parish of Wallsend.
Life as an Ordinand:
As an ordinand I attend training days with the other ordinands and "on the job" training with our Parish Priest. My role is to assist our Parish Priest in most areas including church services, funerals, weddings and baptisms. I am also required, as part of my training, to undertake preaching, leading morning and evening prayer, take communion to those who are unable to come to church on a regular basis due to continuing infirmity or recent illness, visit the sick and lead services in some of the nursing homes in our parish.