OUR RECTOR – FR ANDREW EATON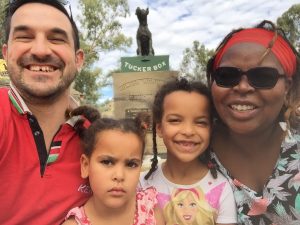 I came to Wallsend with my wife Monica and two girls in February 2017 having ministered in the Diocese of Bendigo in rural Victoria for 6 years.
I completed a Masters in Divinity and Advanced Diploma in Ministry at the University of Divinity in Melbourne, after previously studying a Bachelor of Arts and a Diploma in Golf. I have an interest in Girardian theory and non-violence, ecumenism, liturgy, and I am an aspirant to a new Anglican Marian order – the  Sodality of Mary Mother of Priests.
I love digging deeper into the scriptures and exploring how following Jesus transforms our lives so that we can be part of the transformation of the world.
OUR DEACON – REV PHILIP MORRIS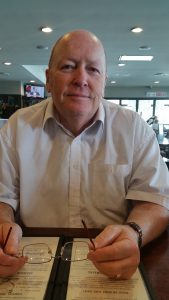 I was born and raised in New Lambton, the third child of Thomas and Lorna Morris. I married Sandra in 1978 and we have two sons and four grandchildren. I worked at BHP, MMI and GIO before leaving full time employment to undertake my training as an Ordinand.
My faith journey:
I felt the calling of God in my late teens and like many, tried to ignore it and live my life as I saw fit. But God kept calling me and in my mid-twenties I started to assist around St Luke's in various small ways outside the Sanctuary. I was a welcomer and reader at the Family Service that my family attended. God kept calling me to do more. I then joined the Sanctuary Team and assisted in all the duties of a server, from acolyte to thurifer, liturgical assistant to lay reader. My parish and successive priests saw me in a more senior role and asked if I was prepared to be "put forward" to the Bishop as a candidate for ordination.
I was ordained deacon in the church of God on June 30, 2018, and am continuing training in Clinical Pastoral Education to facilitate my work in the pastoral care team of the parish.
OUR HONORARY CHAPLAIN – JOSEPHINE SNOWDON
I have studied theology at the University of Divinity. With a Graduate Diploma in Theology, CPE and ministry studies through Trinity, I have worked as an Anglican Chaplain in Melbourne and continued research and ministry into disability, church and inclusion.
Both my practical and academic background in Occupational Therapy have positively influenced my ministry greatly and I now enjoy being Anglican Chaplain to the Samaritans Foundation. This engages me with pastoral ministry to staff, volunteers and people we work with as well as parishes throughout the Diocese. Social justice issues have always been an important part of living out my faith, as is the pursuit of a broad ecclesiology in spiritual traditions.
My adult family are in Melbourne and Sydney, and my best everyday companion is Pippa, a golden cocker spaniel.
OUR CHILDREN'S & FAMILIES MINISTER – MATTHEW COUCH
Moving to Newcastle with my wife Miranda and son Joshua opened up space in our lives to focus more intently on prayer. I soon found myself drawn to the spiritual, aesthetic, and liturgical traditions of the Anglican church.
At St Luke's, we found a sacramental life accompanied by a vibrant host of families and children! This pleasant discovery led us to make St Luke's our home.
I am grateful to work alongside our loving volunteers as we minister to the children and families in and around Wallsend. I bring to my role a deep love of theology, science, and Christ.