Our Children's & Family Minister, Matthew Couch, oversees our popular Sunday School which runs during school term at 9.30am.
Two Safe Ministry Trained adults provide teaching, fun, games, craft and singing.
Sunday school starts in church where we sing a hymn with the congregation and then head over to the hall to explore a bible story or learn about the tradition of the church and the saints, respond with craft activities, say prayers and sing songs.  We return to the church in time for a Blessing or Holy Communion. A healthy Morning Tea is provided afterwards.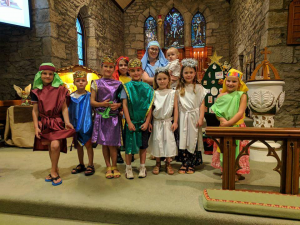 For children too young for Sunday school, a safe place is provided at the rear of the Church with room for prams, and a rug to play or lie on. Please feel free to bring your child's favourite toys and books.
Activity sheets and coloured pencils are provided for preschoolers, and for school-aged children who prefer to stay with their families rather than attend Sunday School.
All Age Service – 4th Sunday of each month: 
This monthly service is a time when Sunday School children join their parents, and other adults in church, and take part in different parts of the service, assisting at the altar, helping with the Collection, doing a reading, being an acolyte (carrying a candle) etc. Our parish band plays each month at this service. It is a relaxed, family-friendly time to praise God together